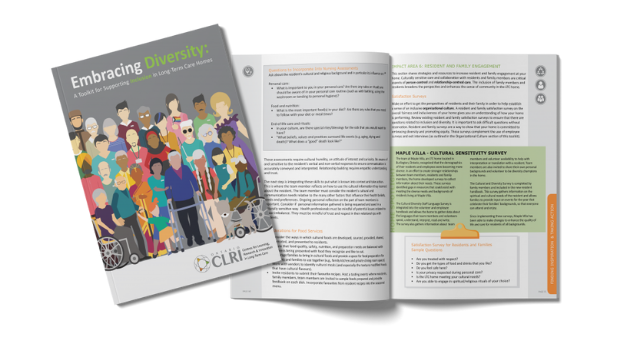 The Ontario CLRI's Supporting Diversity and Inclusion in Long-Term Care initiative aims to build workforce capacity and foster person-centred care through the identification, development and spread of information and resources that support diversity and inclusion in long-term care (LTC) homes.
This initiative recognizes that care experiences can be influenced by individual circumstances, including language, ability, race, ethnicity, religion, spirituality, gender identity, gender expression, sexual orientation, and socio-economic status. This initiative acknowledges both resident and team member diversity.
The Embracing Diversity toolkit is an interactive resource available in French and English with print and online components that gives LTC homes practical steps to nurture diverse and welcoming communities.
This toolkit was developed to support affirming, equitable and respectful care within Ontario's long-term care (LTC) sector.  It will help you to learn about equity, diversity and inclusion and how to apply these concepts to your work in LTC.
This toolkit contains a self-reflection questionnaire for readers to reflect and explore their own unconscious biases. This Organizational Assessment and Planning Tool helps LTC homes evaluate their strengths and identify areas that need attention. Following the assessment tool, readers can explore promising practices to support homes in beginning or deepening conversations about equity, diversity and inclusion within their teams. This toolkit also highlights some of the ways that LTC homes in Ontario honour their diverse populations and have implemented affirming practices, policies, programs, and services.
About Ontario CLRI
The Ontario CLRI helps the province's 600+ LTC homes to enhance the quality of life and care for residents. The Program educates and trains the current and future LTC workforce and provides solutions to pressing issues, including an aging population, care complexity and workforce challenges. The Ontario CLRI is funded by the Government of Ontario and hosted at Baycrest Health Sciences, Bruyère, and the Schlegel-UW Research Institute for Aging.
For more information on the Ontario CLRI's programs and to download the Embracing Diversity: A Toolkit for Supporting Inclusion in Long-Term Care Homes visit clri-ltc.ca.