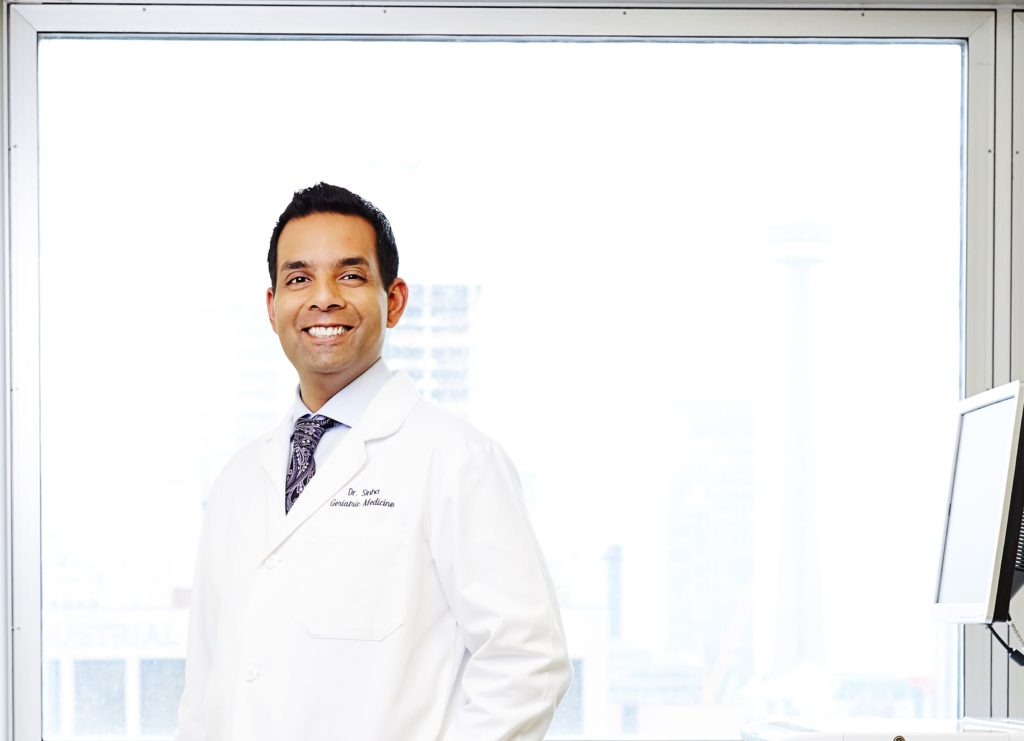 Dr. Samir Sinha is the Director of Geriatrics at Mount Sinai and the University Health Network (UHN) Hospitals. He's the expert lead of Ontario's Seniors Strategy. In this column, Dr. Sinha reflects on developing new national LTC standards for Canada in light of the COVID-19 pandemic and how RPNs can be pivotal to the process.
Given what we have all witnessed over the past year amongst those living and working in Canada's long-term care homes, I welcomed the federal government's commitment expressed in the September 2020 Speech from the Throne to create new national standards for long-term care.
As a geriatrician who has been advocating for improvements to geriatric care and long-term care in Canada for over a decade, I was deeply honoured when Health Standards Organization (HSO), Canada's only standard development organization solely dedicated to health and social services as recognized by the Standards Council of Canada (SCC), asked me to contribute to the development of the new national standard by Chairing the Technical Committee that would oversee its important task ahead
With a whole nation more aware of the important need for high-quality long-term care and many of the system's current shortcomings, HSO is eager to undertake this work with all interested stakeholders and partners across Canada, including registered practical nurses in Ontario and across Canada. The new standard will improve the safety and quality of care for the 250,000 Canadians who reside in LTC homes by improving the working conditions of health professionals like RPNs who dedicate themselves to the care of their residents each and every day.
The centerpiece of HSO's standard development process is the rigorous engagement and consultation that will be taking place this spring onwards. To kick off the process, we released an online survey that we encourage all Canadians to provide their input into as it will help shape the scope of the new standard. We will be eager to have the cooperation and collaboration of groups such as the WeRPN to make this public consultation exercise, the largest in HSO's history, a success.                                               
I believe the devastating consequences of COVID-19 only highlighted long-standing and deeply problematic issues in LTC homes that RPNs know all too well. That's what new standards are meant to do; to take hard lessons and turn them into quality improvement programs designed to help us be better prepared to deliver better care overall and be much better prepared in the face of the next pandemic.
Standards development organizations such as HSO are independent of governments and politics of all kinds. The reason Canadians have confidence in national standards is precisely because of that independence. This particular standard is attracting a lot of attention from everyone, and because of that we are committed to proceeding with the work in an open, transparent and independent fashion. Our focus is squarely on residents of long-term care homes across Canada, their loved ones, and the health professionals who care for them.
National Standards of Canada are used in every sector, in every jurisdiction in Canada. One way the new National Long-Term Care Services standard will be used is part of the integrated assessment programs already in place in nearly 60 percent of long-term care homes in the country. Organizations that participate in accreditation programs with HSO's affiliate Accreditation Canada, in every province and territory except Nunavut, will automatically follow the new long-term care standard when it is ready to be incorporated into existing assessment programs beginning in 2022. The recent announcement that the federal government will be providing $3 billion in additional funding to support the implementation of the new national LTC standards beginning in 2022 will ensure that funding and support is available to help make this new standard a reality in all Canadian LTC homes.
In short, although this particular national standard of Canada for long-term care will be new, national standards of Canada in health and social services are not.
I look forward to the work, and to collaborating with RPNs across Canada on this important work ahead. I was thrilled to see RPNs across Canada apply to sit on our Technical Committee whose membership is currently being finalized, but how some have also participated in our current national online survey.  I hope every RPN who is working in LTC homes will participate in our survey, so we ensure we know what needs to change and what the new standards need to reflect to greatly improve the provision of long-term care for those who live and work in these settings.
Please provide your input to the development of Canada's new LTC Standard by completing the current National Survey HERE
About Dr. Samir Sinha
Dr Samir Sinha is a passionate and well- respected advocate for the needs of older adults. He's currently the Director of Geriatrics at Mount Sinai and the University Health Network Hospitals in Toronto. He was recently appointed the Peter and Shelagh Godsoe Chair in Geriatrics at Mount Sinai Hospital.
In 2012 he was appointed by the Government of Ontario to serve as the expert lead of Ontario's Seniors Strategy. He is also an Assistant Professor in the Departments of Medicine, Family and Community Medicine, and the Institute of Health Policy, Management and Evaluation at the University of Toronto and an Assistant Professor of Medicine at the Johns Hopkins University School of Medicine.
Dr. Sinha's a Rhodes scholar, who after completing his undergraduate medical studies at the University of Western Ontario, obtained a Masters in Medical History as well as a Doctorate in Sociology from the University of Oxford's Institute of Ageing.
He has consulted and advised hospitals in Britain, Canada, the United States, and China.