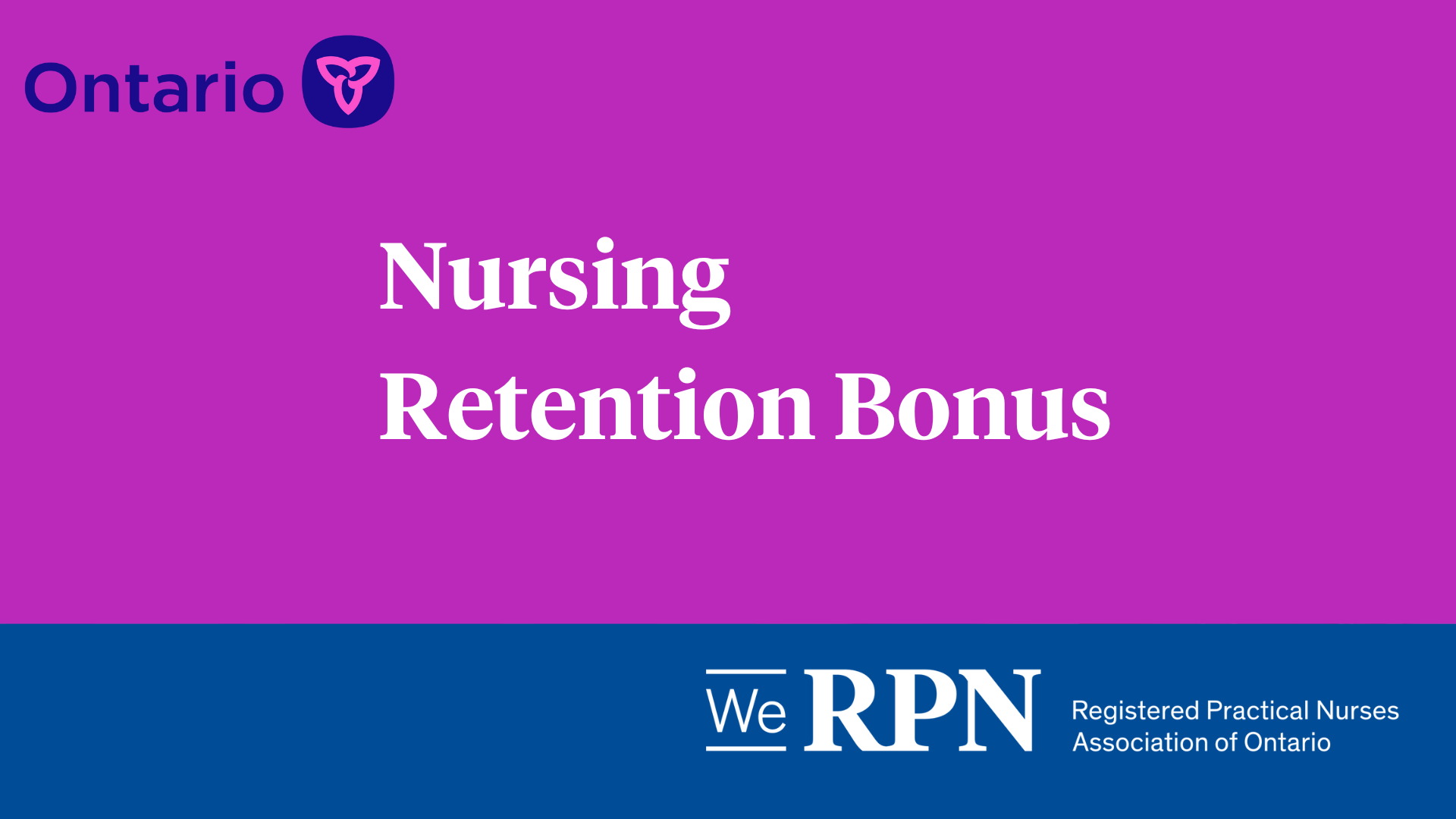 In response to province-wide staffing issues, the Ontario government announced a retention bonus of up to $5000 to be paid in two instalments for eligible nurses.
This was not the solution WeRPN had asked from the government; we requested repealing Bill 124 and providing RPNs with an appropriate pay raise to cover the cost of living and represent the true value of their work.
"RPNs are leaving the profession because they can't stand by and watch patient safety put at risk," said Dianne Martin in an article. It's not that they can't handle a few extra hours; they can't continue to make this sacrifice to our own health and mental well-being and not even have a wage that reflects the current cost of living.
Nothing short of a wage increase will keep RPNs in the profession and ensure access to quality health care for Ontarians."
WeRPN recognizes that this retention bonus does not go far enough to adequately compensate nurses for all they have done and continue to do. Our advocacy work and statement to the government stand firm that nothing short of a wage increase and the repeal of Bill 124 is acceptable, and we will continue to press the government on behalf of all RPNs working in Ontario.
We have heard from many nurses who are frustrated with this initiative and we wish we could do more; however, as an association, we unfortunately do not have any jurisdiction over the process. As a result, eligible RPNs must follow up with their employers to receive their bonuses. It is each employer's responsibility to apply for their staff, after which the funds will be distributed through the employer.
The retention bonus is for eligible full-time nurses; however, there is also a prorated payment of $5,000 for eligible part-time and casual nursing staff across the province. Those who may be eligible to receive the payment include nurses who work for government-funded organizations, nurses in hospitals, long-term care and retirement homes, home and community care, primary care, mental health and addictions, emergency services and corrections, as well as a range of other community-based and developmental services including youth justice. Nurses in management or supervisory roles who were redeployed to a direct patient care role may also qualify.
All nurse classifications who are directly employed by government-funded organizations may be eligible, including nurse practitioners, registered nurses and registered practical nurses. Publicly-funded organizations include:
-Hospitals
-Home and community care
-Long-term care
-Licensed retirement homes
-Public health
-Mental health and addictions
-Other community services
-Corrections
-Labs/diagnostics
-Telehealth/telehealth advisory
Nurses who do not qualify include:
-Those in private duty nursing
-Those who are employed by schools/school boards/post-secondary institutions
-Those who work for temporary staffing agencies
-Nursing executives, such as chief nursing executives
We suggest contacting the Ministry of Health directly regarding any inconvenience or pending issues you may have. You can also refer to the Temporary Retention Incentive for Nurses Program Guide for more information.
We would like to reiterate that the $5000 retention bonus in no way compensates front-line nurses for the anxiety, frustration and stress they have faced for more than two years. WeRPN continues to press the government to extend the $3/hour pandemic pay to RPNs retroactively and for a provincial minimum wage for RPNs that is appropriately proportional to an RN wage. We have not wavered in our advocacy for fair compensation for RPNs and will continue to stand united with their efforts to advocate for wage equity in the health care system.
Sincerely,
Your WeRPN Team