Launched in partnership with the Government of Ontario, BEGIN provides eligible participants up to $10,000 per year in tuition funding in efforts to support retention and combat the provincial nursing shortage.
TORONTO, May 10, 2023 — Today, the Bridging Educational Grant in Nursing (BEGIN) program announced it has reached an important milestone, with over 1,000 participants enrolled, who are committed to dedicating a portion of their careers to Ontario's Long-Term Care (LTC) or Home and Community Care (HCC) sectors following graduation.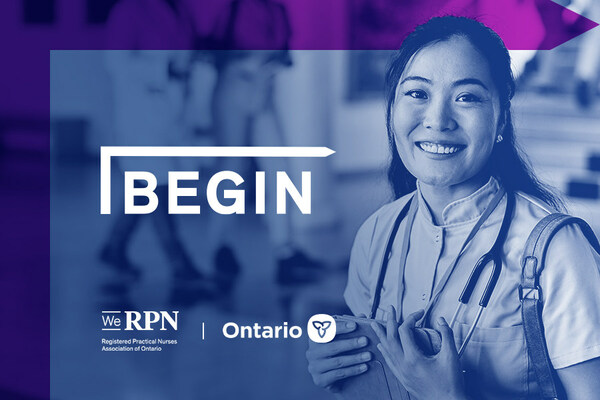 BEGIN programming supports healthcare sectors in urgent need of nurses, with over 1,000 participants committed to work in Long-Term Care and Home and Community Care.
Since its inception, the BEGIN program, created in partnership with the Government of Ontario, has made tremendous strides to reduce barriers for Personal Support Workers (PSWs) and Registered Practical Nurses (RPNs) looking to grow their nursing careers in an effort to address the urgent staffing needs in the LTC and HCC sectors.
The program provides eligible bridging students with up to $10,000 per year in tuition funding to support their education. Successful participants commit to working in LTC or HCC sectors through a Return of Service (RoS) agreement for a period equivalent to the time they received tuition reimbursement grants.1
"We're proud to work with the government to bring this important initiative to life and drive recruitment and retention to sectors in urgent need of nurses," says Dianne Martin, CEO, Registered Practical Nurses Association of Ontario (WeRPN). "This milestone is only the beginning and continuing to offer this crucial education funding, the BEGIN program will ultimately bring more nurses into the LTC and HCC sectors and enhance overall client care."
A recent poll about experiences in the program revealed that professional goals (84 per cent), increased career opportunities (83 per cent), and desire for greater earning potential (63 per cent) are the leading drivers when it comes to pursuing continuing education.
For an overwhelming majority of recipients, BEGIN funding has been an important aspect in their lives, and for over a third, it's been life-changing. For most participants, BEGIN has helped provide a greater sense of financial security when returning to school. In fact, 80 per cent of respondents say the program lowered stress levels, 79 per cent say it helped them feel financially stable and 89 per cent say BEGIN tuition grants have alleviated financial pressures allowing them to focus on their studies.
"Our government understands the pivotal role our nurses and personal support workers play in our plan to provide a better health care experience closer to home," said Sylvia Jones, Deputy Premier and Minister of Health. "We will continue on implementing our bold plan to grow the healthcare workforce for years to come and provide everyone with connected, convenient care. On behalf of Premier Ford and our entire government, I extend our deepest thanks to the work they do day in and day out."
The study outlines current BEGIN participants' viewpoints and the program's progress to date, revealing the following data:
Growing Ontario's nursing workforce: BEGIN drives recruitment to sectors in need of nurses with nearly 4-in-5 (79 per cent) saying BEGIN has heightened their interest in working in LTC and HCC sectors. The survey further revealed a quarter (25 per cent) would not have considered working in these sectors if it were not for the program.
Supporting recruitment and retention in the healthcare system: The BEGIN program is bringing new talent to LTC and HCC sectors, and retaining experienced healthcare professionals. Nearly half of respondents (47 per cent) indicated they were working professionally for 1-4 years prior to pursuing continued education, while 42 per cent have been in the profession for over 5 years. Moreover, among that group, 24 per cent have been working for more than 10 years. An overwhelming majority of participants (97 per cent) would recommend applying for BEGIN to their peers.
Strengthening career opportunities and patient care: Through BEGIN's program initiative and mandatory Return of Service, 96 per cent of respondents felt confident knowing they would graduate with secure job opportunities. Additionally, 92 per cent say they are looking forward to working in the LTC and HCC sectors to make an impact.
Supporting retention and education concurrently: 90 per cent of BEGIN participants are currently working in healthcare while completing school, with 46 per cent working part-time, 26 per cent working full-time and 22 per cent working casually.
"Our government's plan to fix long-term care includes a historic $4.9 billion commitment to recruit, train, and retain thousands more registered nurses, registered practical nurses, and personal support workers. Our collaboration with WeRPN and the BEGIN program has been instrumental in making this possible. With over 1,000 enrollments, the BEGIN Program is playing a vital role in providing the nurses we need to deliver a nation-leading standard of care of four hours per day, per resident," said Paul Calandra, Minister of Long-Term Care. "Congratulations to WeRPN on reaching this significant milestone. We are excited to support these students as they embark on fulfilling and rewarding careers in nursing."
The expanding roster of 1,077 BEGIN participants, including 686 PSWs and 391 RPNs, have signed commitments to work in Ontario's LTC or HCC sector following graduation. To date, this ongoing initiative will supply 730 more nurses to the province's LTC and 347 to the province's HCC sectors respectively. New graduates are provided with resources and education to support the transition to practice.
1 Eligible PSW-RN students can receive a tuition and mandatory ancillary fee reimbursement of up to $6,000 per year (maximum of $15,000) and eligible RPN-RN/PSW-RN students can receive a tuition and mandatory ancillary fee reimbursement of up to $10,000 per year (maximum of $30,000) over three years.
About the BEGIN Program Study
From April 18 to 23, 2023, an online survey was conducted among 222 BEGIN participants across Ontario by the Registered Practical Nurses Association of Ontario (WeRPN). For comparison purposes only, the sample plan would carry a margin of error of +6 percentage points, 19 times out of 20. Discrepancies in or between totals are due to rounding.
About WeRPN
WeRPN is the professional voice of Ontario's 60,000+ Registered Practical Nurses (RPNs). WeRPN builds the profile and professional capacity of RPNs so they can better care for patients and better support their fellow health-care workers. Follow us on social media, Facebook, Instagram, LinkedIn, Twitter, YouTube and TikTok.
For further information: Media requiring further information or to coordinate an interview, please contact: Ciara Dalziel, LABOUR, 416.564.6918, ciara.dalziel@labourcreative.ca or Jessica Huynh, LABOUR, 647.985.5378, jessica.huynh@labourcreative.ca